When conducting an e-commerce SEO audit, it's essential to follow a comprehensive e-commerce SEO audit checklist to ensure that your online store is optimized for search engines. An SEO audit for e-commerce site involves reviewing various aspects of your website, from e-commerce SEO technical audit elements to on-page optimizations. Here's a detailed guide on what to check for during an e-commerce SEO audit:
1. Technical SEO
Website structure and hierarchy.
URL structure and permalinks.
Sitemap and robots.txt file.
HTTPS implementation.
Page load speed and performance.
Mobile-friendliness and responsiveness.
Schema markup for product pages.
2. On-Page SEO
Title tags, meta descriptions, and header tags (H1, H2, etc.).
Keyword optimization in product descriptions.
Image alt tags.
Canonical tags for duplicate content.
Internal linking structure.
3. Content Quality
Product descriptions: Ensure uniqueness and informativeness.
Blog content: Relevance and quality.
User-generated content (reviews and ratings).
4. Product Pages
Unique product descriptions for each item.
High-quality images with descriptive alt tags.
Product reviews and ratings.
Clear pricing and availability information.
5. User Experience (UX)
Site navigation and organization.
Mobile optimization and responsive design.
Checkout process ease and security.
Site search functionality.
6. Site Speed
Page load times across devices.
Image optimization.
Minimization of HTTP requests.
Caching and compression.
7. Technical Issues
Broken links and 404 errors.
Redirects (301 and 302 redirects).
Duplicate content issues.
Use of structured data (schema markup).
8. Local SEO (if applicable)
Google My Business profile optimization.
Local keyword targeting.
9. Backlink Profile
Quality and relevance of backlinks.
Toxic or spammy backlinks.
10. Conversion Rate Optimization (CRO)
Checkout process optimization.
Calls-to-action (CTAs) and buttons.
Product page layout and design.
Abandoned cart recovery strategies.
11. Analytics and Tracking
Google Analytics and Google Search Console setup.
Tracking and analyzing user behavior.
Monitoring key performance metrics.
12. Security
Regular security audits.
HTTPS implementation.
Protection against malware and hacking.
13. International SEO (if applicable)
Hreflang tags for multiple languages and regions.
Currency and pricing adjustments.
14. Social Media Integration
Ensure social sharing and integration options are optimized.
15. Legal Compliance
Privacy policy, terms and conditions, and other legal requirements.
Conducting an e-commerce SEO audit using this e-commerce SEO audit checklist will help you identify areas for improvement, ensure your website's SEO health, and boost its visibility in search engine rankings.
What tools can you use to conduct SEO audits?
You have several options when it comes to SEO audits:
Do It Yourself (DIY): Clients with a good understanding of SEO can perform their own audit using the checklist provided. There are many online resources and tools available to assist in the process. Use a tool like Screaming Frog to highlight any technical errors
Paid Services: Clients can opt for paid SEO audit services provided by various SEO tools and agencies. These services often offer in-depth analysis and recommendations based on the audit results. There are several you can try. Semrush gives you keywords, competitive analysis, article ideas, and a set of other tools. Then there is Ahrefs or Moz.
Experienced SEO Marketing Agency: You can turn to an experienced SEO marketing agency to conduct the audit. Such agencies can not only perform the audit but also develop the right SEO strategy, improve the website's structure, analyze competitors for further promotion, and work on improving the site's position by increasing targeted traffic within a specified timeframe, often within three months.
By choosing the approach that best suits their needs, you can ensure that you e-commerce website is fully optimized for search engines, driving increased organic traffic and improving their online visibility.
In eCommerce stores, businesses often do not give their product cards the attention they deserve. However, these pages are of significant "strategic" importance.
Let's take a closer look at these crucial pages and see how you can improve your eCommerce product page optimisation. We will assume your product cards are basically SEO optimised (tags, Title and H1 are written, meta tags are filled in, Schema markup is added) and that they are attracting relevant traffic.
How to make a good product page
With all this done here are further practical recommendations – 15 steps that are worth doing for product page optimisation.
1. Add a "similar products" block
Use product recommendations, bundles (combining products), upsell and cross-sell tools. Even if some products are not suitable for the buyer, they will linger on the site and it sometimes inspires them to choose a suitable alternative option.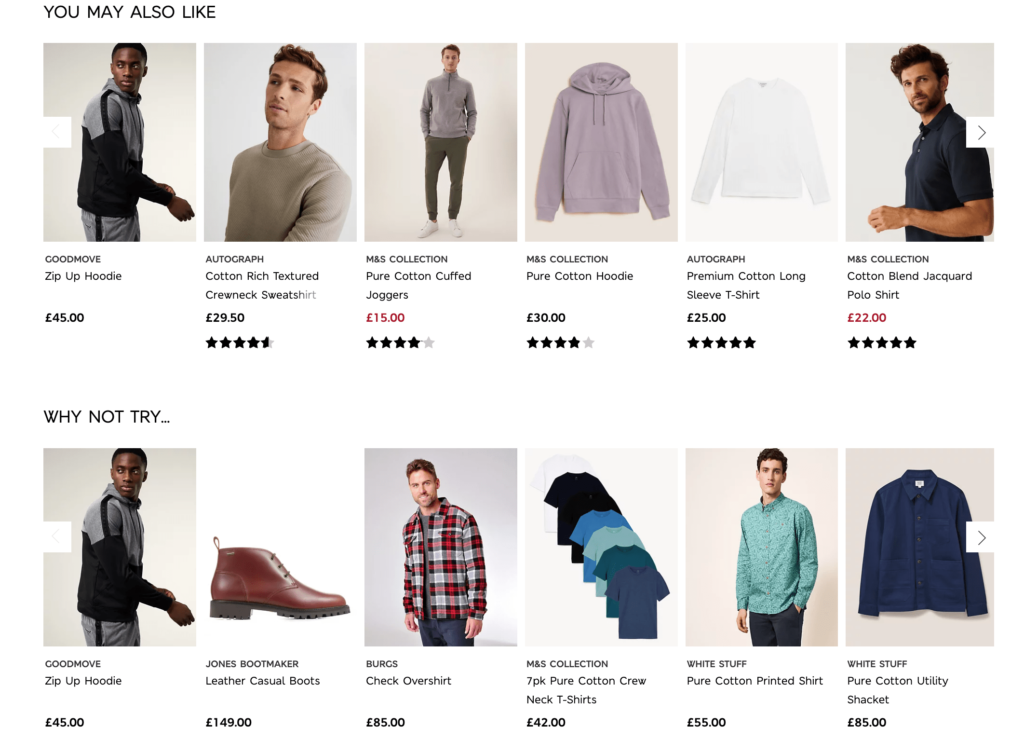 2. Post reviews
When considering how to improve product pages, one of the most impactful actions is to include product reviews – 61% of customers read online reviews before buying, and 88% trust website reviews as much as recommendations from close friends and acquaintances.
Having 50 or more product reviews can lead to a 4.6% increase in conversion rates. Therefore, the presence of real comments from buyers is a big step towards increasing trust and profit in the future.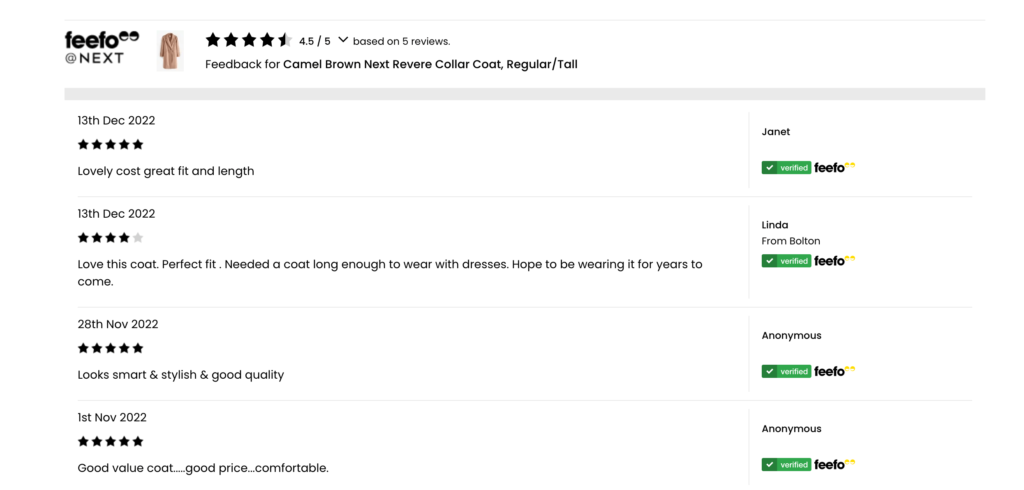 3. Video product reviews
Add video product reviews ranging from 30 seconds to 2 minutes to really bring your products to life.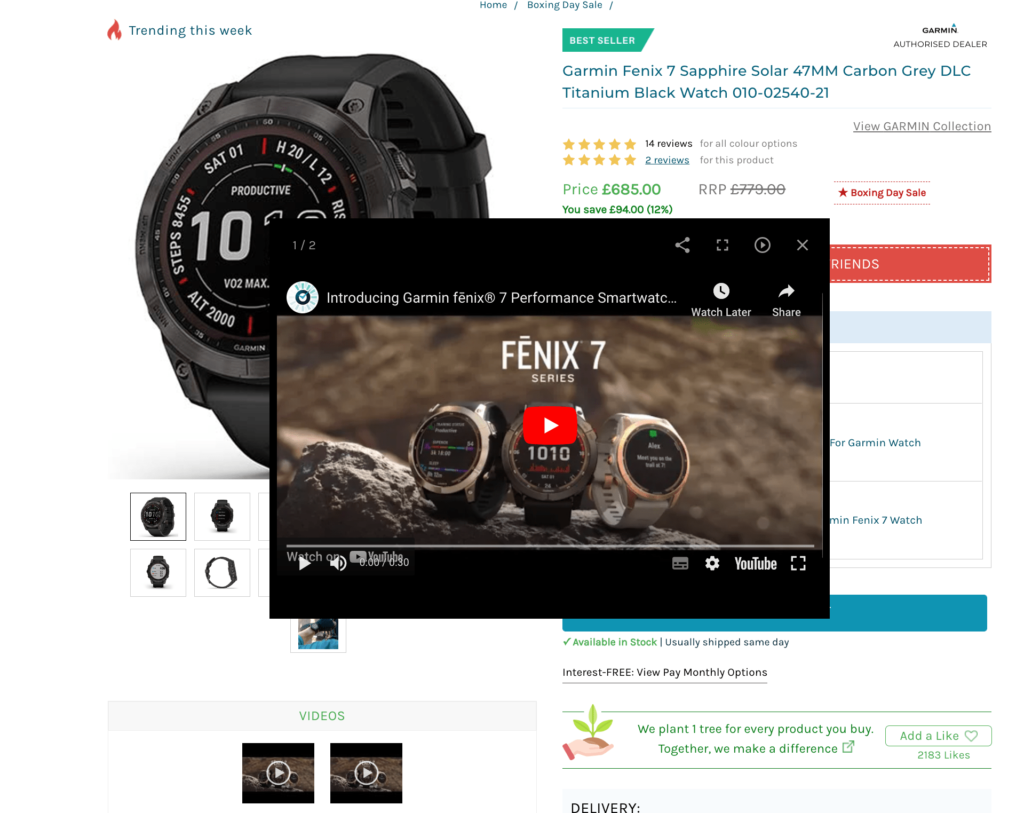 4. Add shipping terms
If you are planning to scale, make it possible for people outside of your city to get an order so you can reach a larger audience, therefore increasing your number of potential buyers. You do not need
to describe all the conditions in detail, for this you have a separate page. But briefly provide basic information.
5. Specify warranties
If you say up front that the product is guaranteed for a certain period, or can be returned or exchanged, it will greatly help to alleviate buyers' fears, thus making the buying decision easier for them.
6. Add the option "Buy in one click"
If you're selling locally, the one-click buy option may be right for you. The buyer will not need to fill in many fields, the only thing that needs to be entered is a phone number and name. If trying one-click buying, it is important to test how it works to ensure you give the user a clear understanding of what format the phone number should be entered, in order to avoid user errors.
7. Launch a promotion
When buying, everyone loves discounts, gifts and promotional offers. In addition, it is well-understood that sometimes people buy goods for a promotion, even if they don't need them or they were going to buy something completely different.
If you specify a discounted price, make it more noticeable than the original one so as not to confuse the buyer.
To make your promotion even more impactful, set a time or quantity restriction, and post the information in a prominent place.
A further benefit of having promotions is that they are great advertising. People like to share special offers with relatives, friends and acquaintances which provides you with more potential leads.
8. Include your product's features and benefits
If someone sees an empty product card they are likely to leave your site. It is important for buyers to get a detailed description: specs, features, benefits, user-warnings, usability, details, and so on.
The more questions you answer in the buyer's mind, the more likely they will place an order.
9.Get great product photos
Since you cannot see or touch a product when buying online, photograph (and video) are the primary ways for shoppers to understand it visually.
The quality of imagery does improve the conversion of an online store. Pictures should be clear and detailed, with natural colours, and show different angles. This will help visitors to correctly form an opinion about the product and buy what's right for them.
We advise including at least three product photos. These should include front, back and side, and have a hand or familiar object in shot so that customers can estimate the dimensions. If the product comes in different forms also show folded, unfolded, installed, and so on.
10. Add symbols of benefit to the consumer on the product page
You could show these benefits as badges or icons for extra visual impact. For example, a promotion, a percentage discount, top sales etc. Your goal is to convince shoppers that their search is complete and they have found the product for them.
Thoughtful marketing will show your customers that you are the best option.
11. Well-designed CTA and pop-up forms
The call to action (CTA) on the button should accurately reflect the action that will happen when clicked. Your goal is to get site visitors to make a purchase as simply as possible, so guide them through their journey seamlessly.
12. Buy button
Make it bright, contrasting with the content of the product card so that customers don't have to waste a second searching for it.
13. Add an exit-intent clause
If visitors to your site are not interested in a particular product and want to close the page within 30 seconds, give them options to stay on your site and find something more relevant to them.
14. Page design
Compare your page design with similar competitor pages. This will help you understand if you are keeping up with the latest trends or if your design is outdated. Perhaps it is time for a redesign of your online store from a web design agency for ecommerce projects.
15. Quicken page speed
Fast-loading web pages improve user experience and SEO performance, reducing the number of bounces and moving people towards making their purchasing decisions more quickly.
If you want an SEO audit of an online store, online store promotion, conversion optimisation or Google shopping optimisation, contact us and we will be happy to review your business. We will share our successful cases and select the best integrated solution for you for optimising product pages.
Common mistakes to avoid when you optimise product pages
Don't use product descriptions from the manufacturer's website. Very often, online stores copy text from the manufacturer for product descriptions, publishing them exactly as they are presented on the manufacturer's website. Many sellers and distributors do this, making the content less unique. It risks sanctions from search engines too.
The page is not SEO optimised. For an online store, the product card page is your main point of traffic and sales growth. The product card can be optimised for low-frequency queries and high-conversion queries. Read our article on how to optimise a page for SEO.
Don't delete product pages that are out of stock. Just hide the product from users, indicate when the product will be in stock and offer an option for alternative products.
Don't delete seasonal items. It is best not to remove seasonal products that have managed to take top positions, so that you can maintain their success for the next season. You can hide seasonal products for users on the site, but don't stop the page from indexing.
Need more information on how to optimise your product pages for more sales?
While there are many good practices to follow to optimise product pages, every business is unique. So analyse your customers to understand what is important for them when choosing a product and how to make this process as convenient as possible.
Your objective should be to make an online experience so good that customers do not want to leave before purchasing. And furthermore recommend you to their friends. This will help your conversion to continually grow.
At Atomic Leap, we are always on hand if you want to discuss your online store with an expert.
Liked the article? Don't forget to share on social networks.
SEO-optimisation of product pages is interesting because, thanks to this attention to detail, you can get a lot of low-frequency traffic from search engines. Unlike traffic from contextual advertising, this traffic is free. Plus, it converts well into orders. It also has lower competition than high-frequency queries.
Here are the 9 actionable tips for your product pages. So, let's get straight to business and explore the elements that need to be optimised for SEO:
Product name
Description of goods
META TITLE and DESCRIPTION for product pages
Include FAQ Section
Add Customer Reviews & Testimonials
Check ALT and TITLE for images
Mark Up Product Pages with Structured Data
SITEMAP.XML
URL for your product pages
Click the link to download a short infographic.
Now, let's dive into details.
Product name
Product name for ecommerce product page is marked in HTML (Hypertext Markup Language) as H1. Heading tag indicates the main topic on a web page. Your H1 heading must be different from the title. To avoid being spammy, it is better to skip words such as "buy", "price", etc. in your H1. We advise only including the name of the product, SKU, use brand names when possible, include SEO keywords, include unique characteristics but avoid jargon and internal terminology.




Description of goods
Product descriptions need to be unique. It is a bad idea to just copy the text from the manufacturer or competitors. Some businesses write their descriptions for themselves while others brief a copywriter. Each product page should be optimized for product-specific queries only, not for brand or brand+product category queries.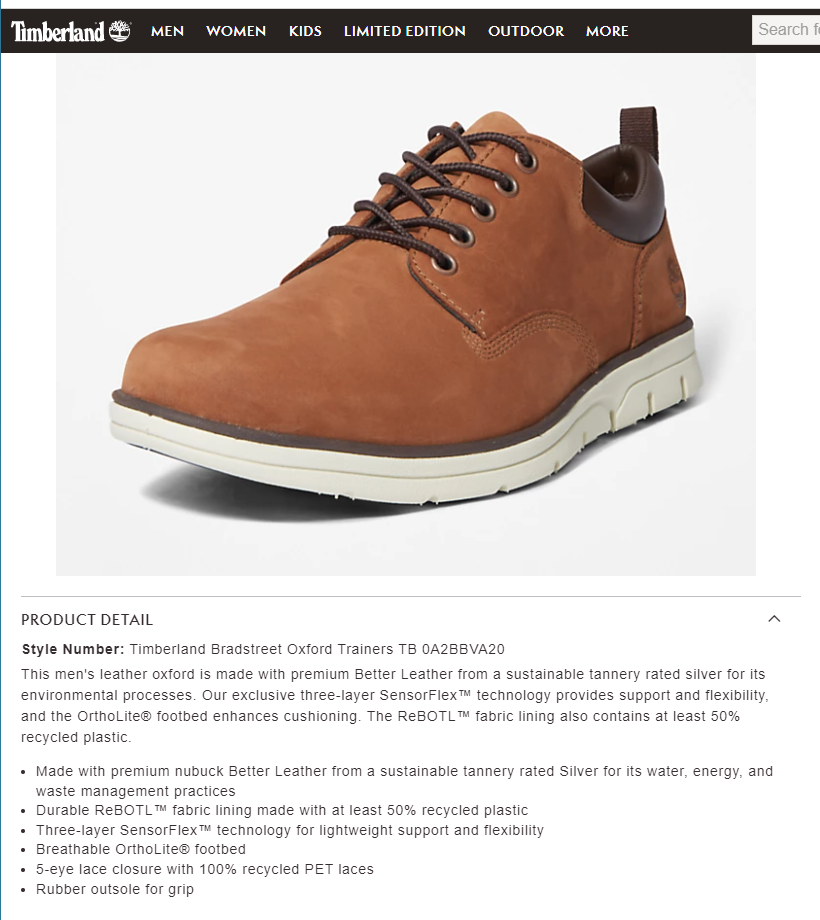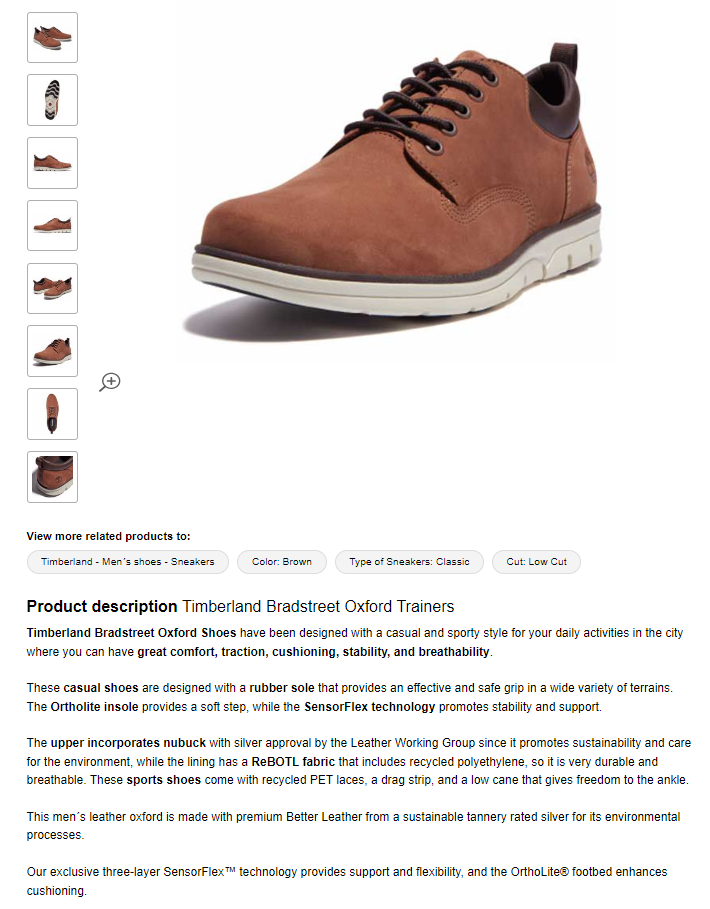 It is important to check the site for duplicates. For example, if the same product is in different categories and opens at different url addresses; then the rel canonical tag should be registered in the code, indicating the main address of the product card to the search engine.
META TITLE and DESCRIPTION for product pages
For product pages, the TITLE tag is best set up using a formula. For example, "Buy #product name# from #manufacturer name# with delivery to Bristol, features and prices". The words you plan to use in the formula are best chosen based on semantics (a list of keywords). The length of the title tag should be 50-70 characters
The DESCRIPTION tag is formed in the same way, according to a formula. But it is important that it is different from the title. Google's description tag can be used as a snippet. The length of description must be between 70-156 characters. Therefore, it is good practice to make it informative and useful. We include the price and benefits (for example, free shipping).


Using special characters in title and description
To create a more attractive snippet, you can use graphic characters or emojies in the page title (title) and in the page description (description).
The most important special characters for optimal title- and meta description design:
Checkmarks ✓ (next to statements about the own offer, to insinuate that the user has made the right choice)
Arrows ➔ (can be used to focus a user's attention on a statement)
Stars ★ (are associated with high quality)
Branch-specific characters ✈ (e.g. an airplane for an airline's site)
FAQ Section
To enhance the value of your user journey, include a FAQ section on your product pages. You've already identified your intended customers, so it would be simpler to list down the questions that common customers have about your products. It facilitates quick decisions about purchases. Adding this block will also help to uniqueize the text on the page. However, don't forget to mark everything up with Schema. If you want to use FAQs, use the FAQPage property. Alternatively, you can go for Q&As using the Q&APage property.
Customer Reviews & Testimonials
Consumer reviews serve as social proof for a product that creates an aesthetic value for customers. Reviews help to expand the amount of unique, and most importantly, useful content for the user as well.
Use ALT and TITLE for images
With the help of image tag attributes, you can lead the search results for images, gaining a competitive advantage. This is especially the case for online stores.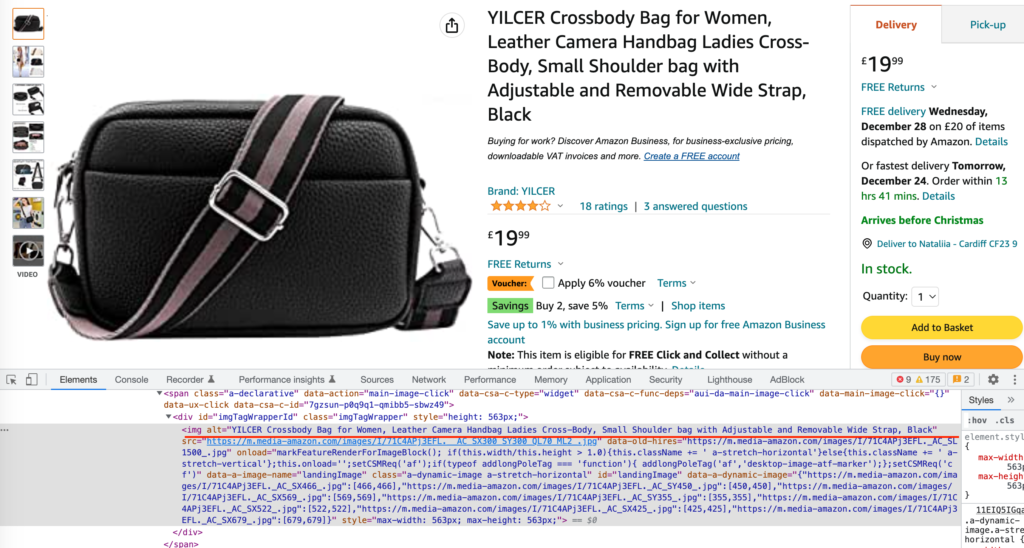 Mark up product pages with structured data
Micro-markup of product cards (in the schema.org or Open Graph format) allows you to mark up this product for search engines. Indicate where its name is, where the description is, the characteristics, price, availability, shipping information, and reviews on the product. Adding structured data to your product pages allows Google search results (including Google Images and Google Lens) to display product information in a richer way.
All product pages should have product schema and review schema, which can:
Drive more impressions and clicks.
Improve your CTR and create more sales.
After you have done this, search engines will be able to display information about the product directly in the search results. The presence of micro-marking also affects the promotion of product pages.
Best Structured Data Testing Tools: Schema.org, Bing Markup Validator, Search Console Structured Data Report.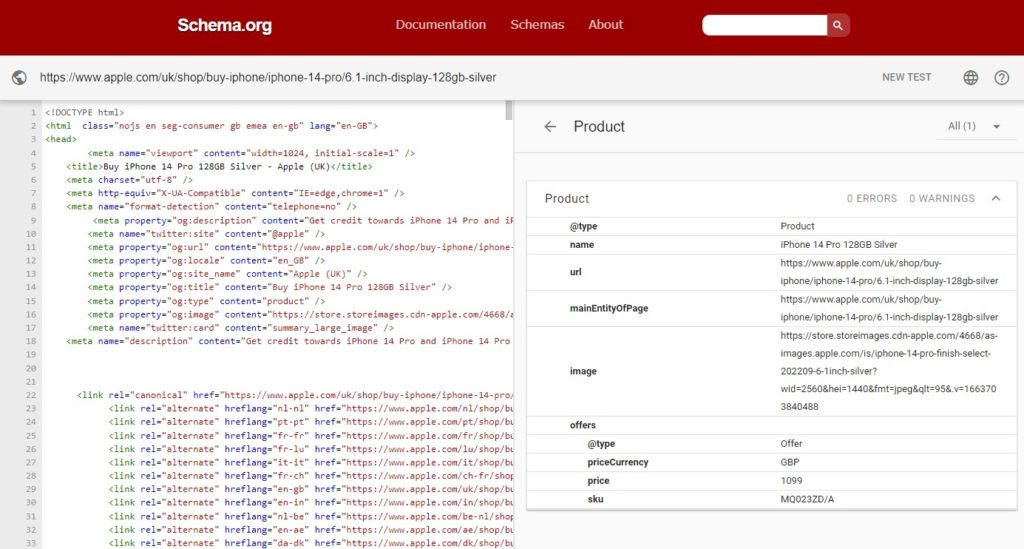 SITEMAP.XML
The page needs to be present in SITEMAP.XML. If the product card is not indexed, it will not bring traffic as search engines do not know about it. You can check the card for indexing in the service for webmasters, or alternatively with the help of the browser plugin RDS-bar. So that there are no problems with indexing in the future, you need to check that all the pages of the cards are in the sitemap.xml sitemap. The sitemap is usually available at sitename.com.uk/sitemap.xml.
We recommend creating separate XML-maps for site product categories, this will allow you to control indexing and immediately identify errors.
URL for your product pages
We recommend using the product name in the URL. Exclude spaces, underscores and special characters in URL for your product pages.
Recommended: /product/black-t-shirt-with-a-white-collar
Not recommended: /product/3243
How to handle out-of-Stock products on ecommerce platforms
The item is out of stock. "Delete or not to delete, that is the question!" – it's a joke in the SEO community. There are many situational decisions, all of which have "it depends" vibes when it comes to SEO and user experience.
Product is temporarily out of stock:
Deactivate the buy button.
Include an estimated availability date.
Provide email or text notifications.
Hide product from internal search.
Move it down the category.
Add related products.
Product is discontinued, do not rush to delete the page!
If the page is driving traffic to the site, keep related products on the page (but don't delete the page).
If the page is in the search but does not generate traffic or it has decreased significantly, put a 301 redirect to a similar product or product category especially if the page has quality backlinks.
If you are removing a page and there is no relevant, current product, you may want to simply delete the page and return a 404 or 410 status code.
Further help
If you need help auditing your site or promoting it in search engines, please contact us and we can discuss how our expertise can assist.
ABOUT THE AUTHOR
Nataliia Yuzhaninova is SEO manager of marketing agency Atomic Leap.
LinkedIn: Nataliia Yuzhaninova
An abandoned cart is the loss of a customer during the checkout process in an online store. This is a fairly common situation, and one to actively manage as you are so close to converting a sale. So if you are asking "Why do I have so many abandoned carts?", read on.
In this article we will answer questions like "Why do customers abandon carts?" and "How to avoid cart abandonment?". But first we will look at cart abandonment rate.
How to calculate cart abandonment rate?
Cart abandonment rate (CAR) is the percentage of users who add a product to their cart and then leave it without placing an order. CAR is calculated using the formula:
(1 – (number of successful transactions / number of cart additions)) * 100%
Let's say your store generated 500 sales in a month. And the number of times an item was added to the cart without a sale being completed is 2,500. So, using the above calculation, we get a cart abandonment rate of 80%. The average eCommerce cart abandonment rate is around 70-80%, and for some sectors it stretches to 65-85%. Despite the daunting figures, this problem can and should be worked on.
Cart abandonment rate statistics 2022
Research by Baymard Institute shows the average cart abandonment rate differs by industry and devices.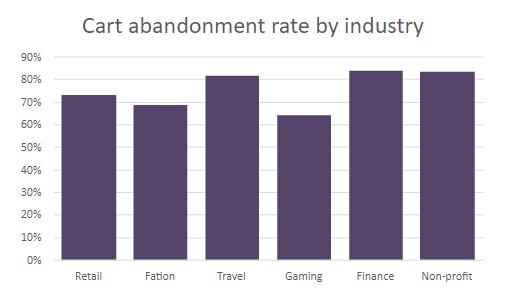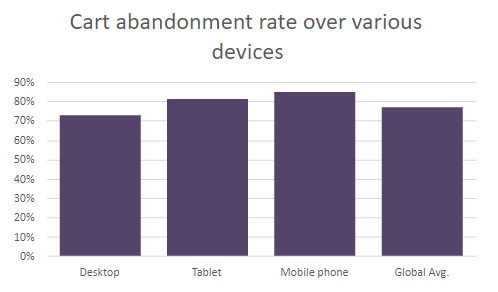 How to check abandoned cart in Google Analytics
If you have enhanced eCommerce Tracking enabled, you can track abandoned carts through the Conversions > Goals > Funnel Visualisation. You should see a report for the different stages of your customer's on-site journey for the time period you selected. When you navigate to Conversions > Goals > Overview the default goal option is 'all goals' you see is Total Abandonment Rate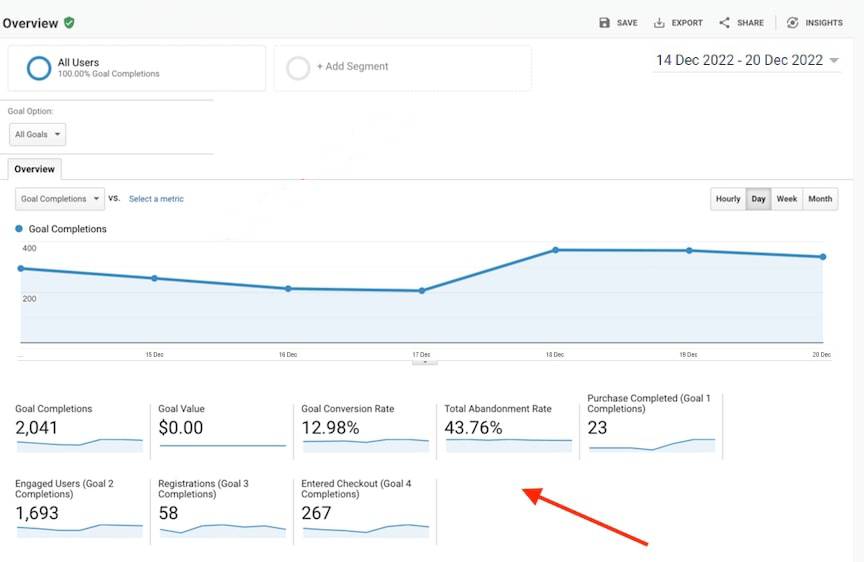 How to check cart abandonment rate in Google Analytics 4
To see how many people leave their shopping carts without buying the products Google Analytics 4 head to the Explore tab > choose to start a Funnel exploration report.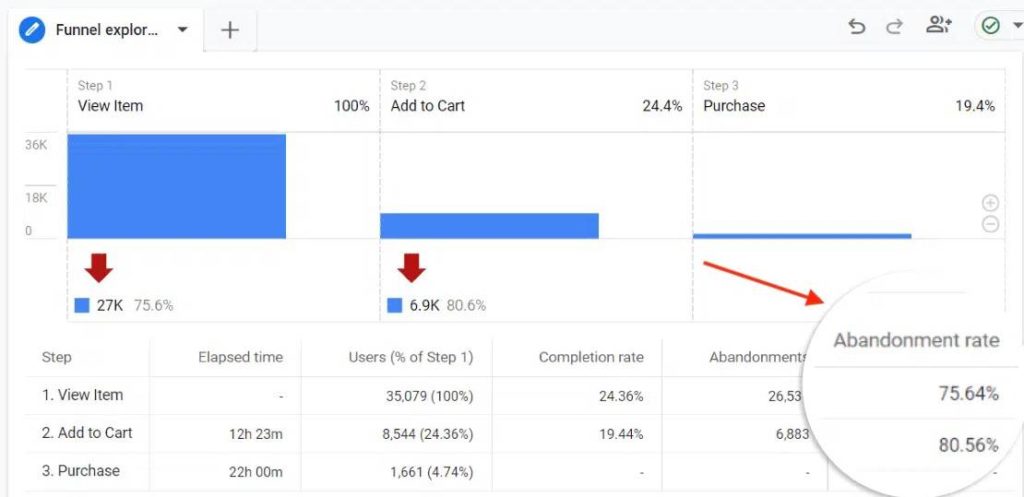 Top 10 reasons why people abandon shopping carts 2022
As part of a survey looking at the reasons for checkout abandonment, the Baymard Institute questioned 4,500 Americans. They were asked: What prompted you to abandon a purchase after you added items to your shopping cart?
Extra costs too high – 48%
The site wanted me to create an account – 24%
Delivery was too slow – 22%
I didn't trust the site with my credit card information – 18%
Too long or complicated checkout process- 17%
I couldn't see or calculated total order cost up-front- 16%
Website had errors -13%
Returns policy wasn't satisfactory- 12%
There weren't enough payment methods – 9%
The credit card was declined – 4%
You can see the results of the survey on the graph.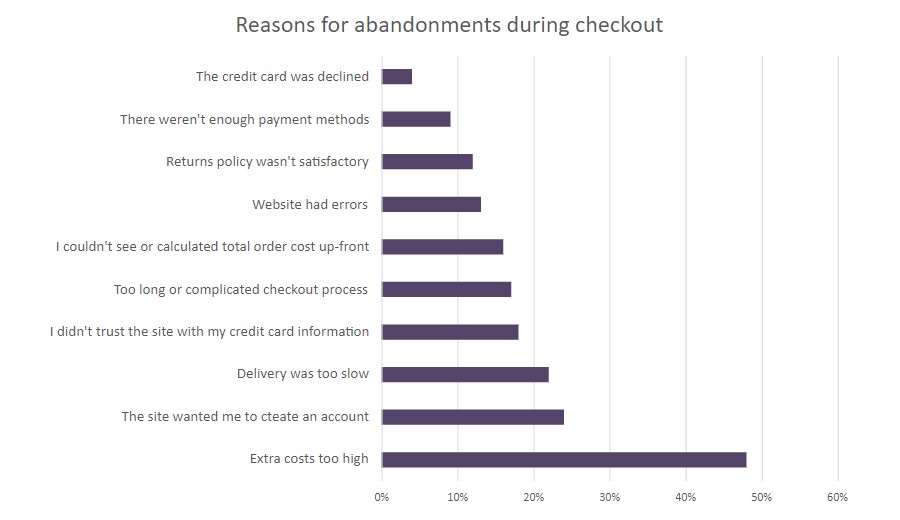 How to decrease your shopping carts abandonment rate in 2023
For 12 years, Atomic Leap has been optimising bounce rates, conversion rates, promoting search engines and advertising online stores across many industries. Based on our experience gained, we will list the eight main reasons why users abandon carts. But more importantly, we'll tell you how to counter them and therefore how to decrease cart abandonment.
Marketing techniques to combat cart abandonment
| Problems | Solutions |
| --- | --- |
| High price | If your product is identical or similar to a product offered by your competitors, people will base their selection on price. If your price is the best, say so (but if you're talking about it, it better be true!). If you can't beat the price, offer some other added value. |
| Cost of delivery. Does your site have free shipping? | Try to offer free shipping. If this is not possible, then give the customer a set of actions to make the order process more valuable to you. For example, be inspired by iHerb online stores: When a customer looks in their shopping cart, ask them to register some basic details – just two fields: a name and a phone number. This gives you a means to contact them should they abandon. You can then try to follow up and close the sale at which point you can also attempt to collect any other information you need. |
| Doubts. Will this product suit me? Can I return it? | Use live chat or chatbot service to solve customer problems and answer their questions. Create a solid refund and return policy. |
| Insufficient popularity of your company among the target audience. | Add social proof signals, reviews, replace stock photos with studio ones, add a video review, develop an About page. |
| No choice of payment/delivery | The fewer options your user has to pay and receive the goods, the higher the probability of cart abandonment. Make sure that customers can pay and take delivery of products or services in a variety of ways appropriate to what you sell. Amongst some of the most popular payment methods are: Shopping apps (Shop Pay and PayPal) Digital wallets (Apple Pay, Samsung Pay, and Google Pay) Buy now, pay later (Shop Pay Installments, Klarna, Four, and AfterPay) |
| Checkout is challenging | You are requesting too much data from your users which is putting them off. Checkout cptimization can increase conversions by 35.62%. See how you can simplify the buying process to reduce cart abandonment and provide guest checkout options or show customer support contact info during the checkout process. |
| Unable to identify problem areas | Collect customer feedback about pain points. Generate hypotheses and test them with A/B testing.When running A/B tests, you should alter only one variable at a time, so you can identify what impacts the performance of the new campaign. |
| Visitors are not motivated to complete the purchase | Display any deals, applied discounts, or sale prices in your visitors' cart. Allow customers to save their cart. |
Technical Solutions to reduce abandon carts
| Problems | Solutions |
| --- | --- |
| Slow site | Make your web pages fast on all devices. Analyze with PageSpeed Insights. Get your PageSpeed score and use PageSpeed suggestions to make your web site fasterl. |
| Lack of responsive layout | A responsive website is one which changes its layout automatically depending on the screen size it is being viewed on. If someone is ordering on their mobile when out, and your website is not displaying properly it is a recipe for cart abandonment. Check your site for adaptability and cross-browser compatibility. Make sure that all key information is clearly visible on all the main platforms. |
6 effective tools to return users to abandoned carts in 2023
There are several tools that can help you recover abandoned carts and bring customers back to your online store. These tools will most likely not be new to you, but take a look below to refresh you knowledge. Results for 2022, based on the performance of Atomic Leap clients.
Exit-intent overlays

Exit intent overlays with surveys can increase conversions by 23% in a product category.
Creating an exit-intent offer that will be shown to a potential customer who, while on the checkout page, suddenly heads to the exit is a good technique. You can again grab their attention with a targeted offer that pops up to encourage them to complete their checkout. You could use time-limited offers, gifts, or attractive discounts and promotions.

Cart Recovery Pop-ups

Cart abandonment popups have a 17.12% average conversion rate.
It is used for both mobiles as well as desktop users. WebPush notifications will work in some circumstances. If the user agrees to receive them (the consent pop-up usually appears after they enter the site), you will be able to communicate with them via short messages, sending notifications directly to their PC or mobile.

SMS messages

Abandoned cart SMS messages work very well if you have customers' phone numbers. They usually convert even better than emails, because their open rate reaches 98%. Therefore, if you collect phone numbers, use this functionality to get people to return.

Retargeting

3 out of 4 consumers now notice retargeted Ads, over a quarter (26%) will click on the retargeted ad and return to your site. Retargeting can reduce cart abandonment by 6.5%.
Cart abandonment is a good reason to use retargeting. Place a Facebook or Google Analytics pixel on your checkout page and then you can send customised ads to cart abandoners. To get the most out of your ads:

Segment customers by any key indicator.
When creating advertisements, add clear and understandable calls to action.
Test different ad copy and design options.

Abandoned Cart Emails

Cart abandonment emails had a 41.09% open rate in 2022.
An effective way to reduce the number of abandoned carts is to follow up with users by sending emails or SMS. Many eCommerce platforms such as Magento, Shopify, 3DCart, and Volusion offer integrated cart abandonment solutions. Do abandoned cart emails work? Let's take a look.

How long to wait to send abandoned cart emails?

"How many abandoned cart emails should I send?" you are probably asking. The first abandoned cart email should be sent within 10-30 minutes of cart abandonment. Don't delay. Abandoned cart emails sent within one hour of abandonment have an excellent conversion rate (20.3%). Second emails sent within 24 hours of the bounce can also lead to higher conversions (17.7%). And a third email should be sent within 72 hours.

Personalized Recommendations

Personalized product recommendations can improve cart abandonment by up to 4.35%.
By using customer data and machine learning algorithms, some tools can provide personalized product recommendations to customers who have abandoned their cart, potentially leading them back to your website to complete their purchase.
It's important to test different approaches and find out what works best for your business. The purchase rate of campaigns using three or more channels is 287% higher than single-channel campaigns.
How to get even better results from your online store
If, after having a go at optimising your cart abandonment rate, you want to scale your business, you can ask us at Atomic Leap to set up online store integration with Facebook and Instagram. This solution will not only increase the popularity of your store and attract new visitors, but also increase sales. We can also discuss with you bespoke ways for how to improve cart abandonment rate.