A Guide to PPC Google Competitor Analysis in Paid Search
You have been around the block enough to know the value of a competitor analysis for your company, I'm sure. But when it comes to paid search, it's extra important. And it is perhaps not done as often as it should be. At Digital marketing agency Atomic leap, we bake the scientific approach into everything we do, and competitor analysis of clients' Google rivals is very much part of this.
So let's take a look at the ways you can gain insight into your competitors and the value it brings you, as well as some of the tools – free and paid – that can help you achieve a good understanding and further your goals.
Understanding Who Your Competitors are
A good competitor analysis for paid search, ppc marketing will actually tell you much more than who your competitors are. Because the industry is so data driven, there's a lot of information which you can use to refine your overall PPC strategy.
The most important thing to learn from your competitor analysis is how to differentiate from them. With the right tools you can track their ad messaging over time and see how this develops. Learning what works for your competitors can not only provide you with ideas on how to differentiate, but also you can use some of their messaging as a test in your own ads.
You do of course, though, want to know who they are too (it may be obvious, but it's worth highlighting that they will not necessarily be the same companies who compete with you in the physical world or even on other platforms).
Add to this, you want to know "what" they are: what type of organisation and where they are in the food chain in relation to you. This will vary by which industry you are in, and what you are selling. But consider that it is unlikely to be just mirror-images of your business which are competing for clicks with you. There could be affiliates, resellers, comparison shopping engines, partners and search arbitragers to name a few.
Doing this regularly will provide real insight into your competitive landscape. You can see when new competitors enter the market, seasonal variation in behaviour and how the market responds to big external events. It will help you act early on keyword trends and, by looking at competitor messaging and landing pages, you can refine your own.
How To Find Competitors In Google Ads?
To find competitors in Google Ads, you can follow these steps:
Manual Search: To see your competitors' Google Ads you can use relevant keywords related to your industry, products, or services. It's best to pick the keywords you perform best on if you already know what these are. Check the ads that appear at the top of the page (and also look at the very bottom). Do this a few times in incognito mode and you will start to get an idea of who you are really up against. To avoid personalization based on your browsing history, use the incognito or private browsing mode in your web browser before viewing competitors' Google ads. You'll need to start a new incognito window every few searches, as Google will start responding to your searches as you go if you do too many in one incognito session.
Google Ads Auction Insights: Within your Google Ads account, you can access the Auction Insights report. It should sit under the "Campaigns" and "Aadgroups" menu. This report provides information on your ad performance compared to your competitors for the keywords in the campaign or ad group selected. It will show you a number of metrics.
Paid Competitor Analysis Tools: Consider using competitor analysis tools such as SEMrush, Ahrefs, or SimilarWeb. These google ads competitors analysis software can help you gain valuable insights into your competitors' strategies, keywords, ad copy, estimated traffic, and more.
Free PPC Competitor Analysis Tool: There are free competitor analysis tools to show you how well you (and your competitors) are doing, as well as for what your target market are searching. Google Ads Auction Insights, Google Trends, Google Ads Keyword Planner. While Google Trends and Keyword Planner are not primarily competitor analysis tools, they offer insights that can be useful in understanding the competitive landscape and optimizing your Google Ads campaigns.
Use our free audit tool: Our tool will take the data straight out of Google ads auction insights and explain how each competitor fares against you via an accompanying video. Request access to our Google ads audit tool
By combining these methods, you should be able to compile a list of your main competitors in Google Ads.
How to Analyse Your Competitors Offering
You will know what you are looking for when it comes to looking at your competitors. However, there are 5 simple steps to check off when doing a PPC competitor analysis:
#1 Landing page quality
Landing pages are the first thing a user sees when they click on a link from a search engine. Analyze the landing pages of competitors for their completeness, relevance, way of presenting information and design.
To outshine your competitors and encourage user conversion, it is crucial to consider the following factors (where appropriate):
USP/Value Proposition: How effectively do they communicate what they offer and why visitors should take action on the (whether that is to purchase, enquire, or just learn more)
Order Qualifying Factors: Try to look at what all of your competitors mention as a minimum. They might all mention price, delivery times, years of experience or awards won. If there are minimum levels of service competitors all mentioned it might be worth considering implementing these on your site.
Price: Evaluate the competitiveness of your pricing – can you compete or should you focus on something else?
Product Range: Assess the variety and breadth of your product offerings.
Information Completeness: Ensure the company provides comprehensive information to potential clients.
Product Availability: Confirm the availability of goods on your website.
Visual Design: Pay attention to the visual design of pages, headings, and text.
Usability and Navigation: Guarantee an easy-to-use page with clear navigation.
Purchase/Application Process: Simplify the purchase/application process by assessing the form's simplicity, the number of fields, available payment methods, and the presence of features like automatic field completion and tips.
#2 Ad titles and text
Analysis of competitors' ads can prompt successful ideas for your own campaigns. Find out the general trends: what headlines are written more and less often, what descriptions are made by other companies, which CTAs are using. This will help you see the strengths and weaknesses of each particular competitor.
#3 Completeness of ads
Pay attention to whether your competitors use extensions and add-ons, whether contact details are filled in, whether dynamic advertising campaigns and site links are used. Additional ad extensions will allow you to stand out from competitors and attract the attention of users. An analysis of extensions will help to understand the trends in the sphere: whether it is necessary to leave a number or not, which pages additional links are usually placed on, whether prices indicate. Pay attention to all extensions in ads, and also see which tricks are used most often.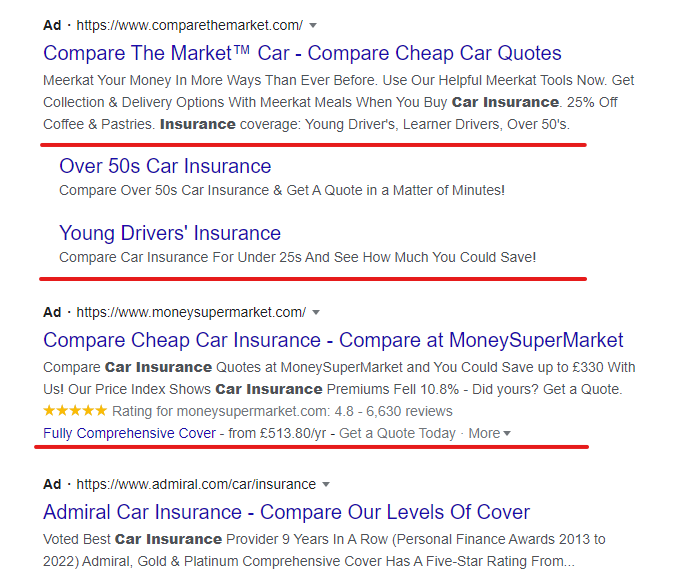 #4 Key phrases
Semantics research will help you find promising keywords for your site. Keywords are the basis of an advertising campaign. How many people will see your ad depends on the correct selection of keywords. Keywords analysis will show which keywords each competitor uses for targeting; relevance of keywords and landing pages; whether brand queries with the name of competitors are used.
This helps make it easier to collect semantics for your advertising campaign. You can also find ideas for new keys
#5 Campaign Budget
The calculation of the advertising budget will give an understanding of what approximate costs your campaigns will have. Many factors influence pricing in contextual advertising; it is not possible to find out the exact budget of competitors in Google Ads. However, this does not exclude the possibility of determining the approximate costs of competing companies.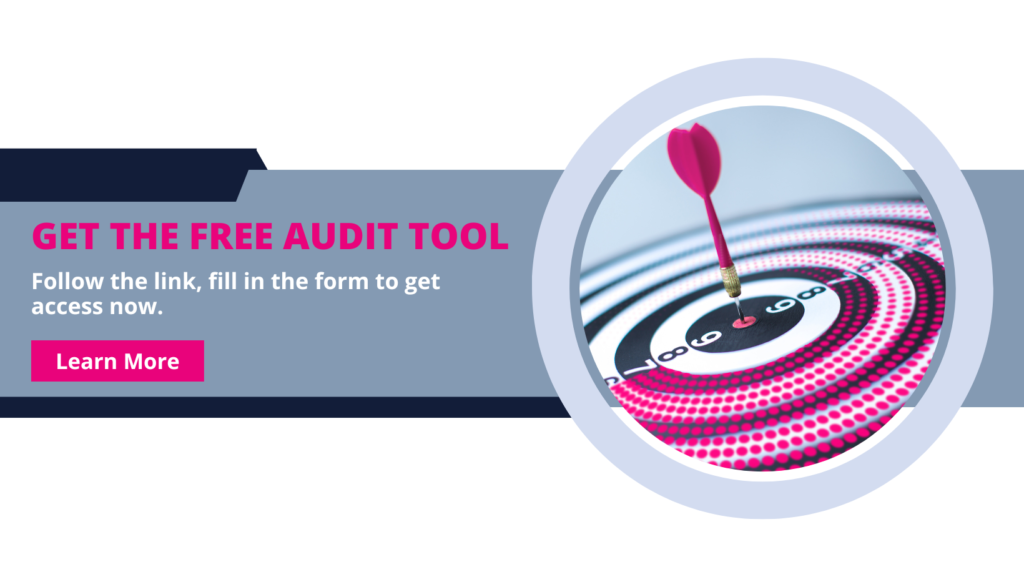 Competitor analysis in Google Ads
After launching an advertising campaign, Google AdWords gives advertisers the opportunity to get information about who is in competition with you for a particular request, whether you are ahead of your competitors or behind. To do this, use the special report "Auction Statistics".
Auction insights report for Search campaigns
To get to Auction Insights from within your Google Ads account, click on one of these options, depending on what type of data you need to get from your auction insights report:
Ad groups
Campaigns
Keywords
Once you click on one of the three options, you can choose a unique "Campaigns" in the left sidebar and select "Auction Insights" from the menu that appears.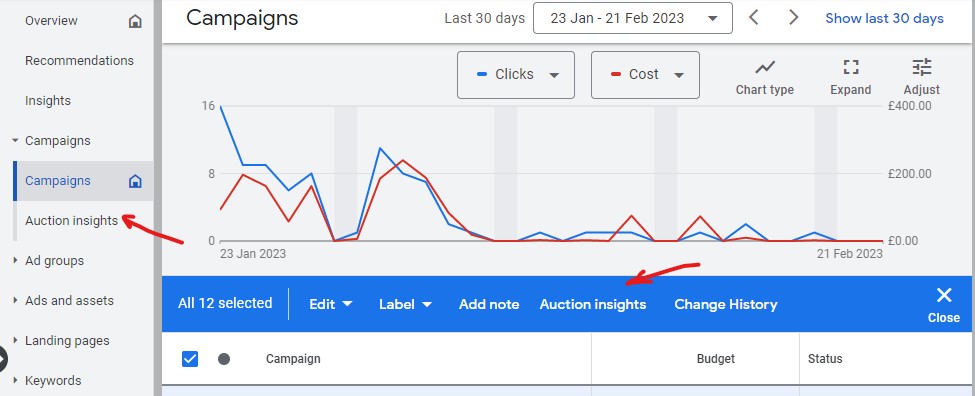 Key metrics in auction insights
List of sites that are also shown for a specific request or group of requests;
Impression share – determines the share of impressions that were received in a specific period of time for your campaign and competitors.
Impression share = impressions / total eligible impressions
For example, if your ad has been viewed 2,000 times and 10,000 are available, your share is 20%.
Overlap rate – The overlap rate measures how often your competitor's ads were shown at the same time as yours. For example, if the rate is 20%, your competitor's ads were shown twice for every ten impressions of your ad.
Outranking share – shows how often your ad was higher in the rankings than others.
Position above rate (search only) – shows how often a competitor's ad is higher than yours in one search results.
Top of page rate (search only) – how often your ads was shown at the top of the page in search results with competitors.
Absolute top-of-page rate (search only) – shows how often your or another advertiser's ad was shown at the top of the page as the first ad.
If you see non-target competitors, you should pay attention to:
your keywords;
their match types;
search queries for which they are shown.
You may be using untargeted keywords that should be stopped. And perhaps broad match brings in non-targeted queries that should be added to negative keywords. Or is it better to switch the keywords to phrase matching altogether if there are a lot of such queries.
Using Auction insights for better PPC competitor analysis
Auction insights is the main way to review your Google ads competitors for free. To view a report on a keyword or group, select it by ticking the box next to each item, and you will immediately see an additional panel with a button. Then click Auction insights.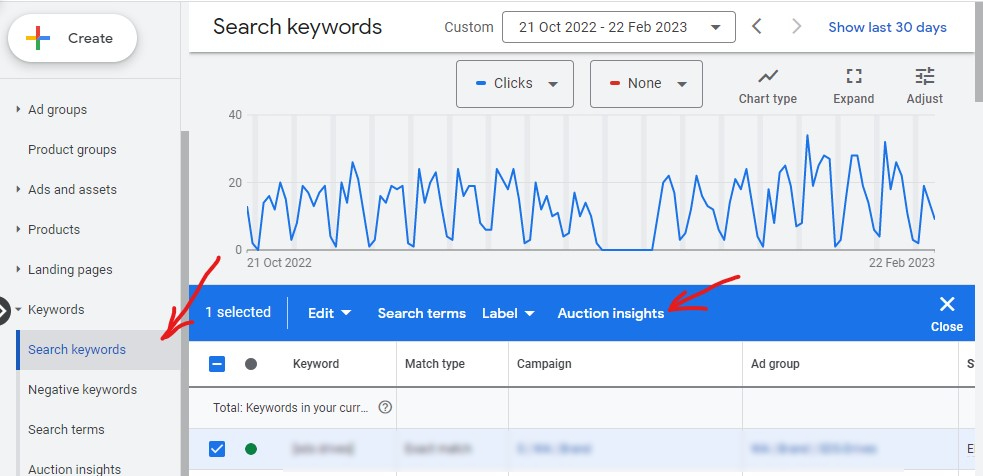 Often this report answers the question, "Why did CPC go up?" which means, accordingly, the effectiveness of the advertising campaign has fallen. Check: perhaps a new player has appeared in the auction or other participants have raised prices.
Let's say we see that we are seriously inferior to some competitors for a certain request. This request, however, gives a good conversion. So, there is something to fight for. In this case, there is reason to consider increasing the budget.
In the keyword auction statistics, you can track which of the competitors is advertised for your branded query.
Report on auction statistics in Google Ads in dynamics
In the report on auction statistics, there is no way to compare indicators with the previous period by selecting the appropriate function in the calendar. To track the dynamics of how the competition indicators in the auction are changing, you need to go to the "Overview" tab and find the auction statistics dashboard.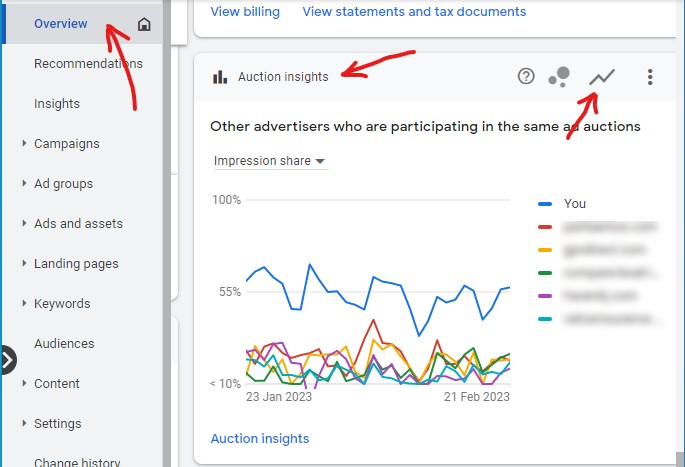 This will display the dynamics of competition indicators over the past 30 days. It is very useful to check when your competitors started to increase their activity. This dashboard is available at the ad group level and above.
Auction insights report for Shopping campaigns
The auction insights report for Shopping campaigns provides 3 different statistics, including: impression share, overlap rate, and outranking share. You can generate a report for one or more ad groups or campaigns (search impression share should be more than 10% in your selected date range or filters.), and segment results by time and device.

To view a report, you need to click on the desired campaign in your account and select "Auction insights" in the "Ad Group" section.

To view statistics for an ad group on the same page, you need to click on the filter, select the required ad group and click "Apply".

Auction insights report for Performance Max campaigns
The auction insights report for Performance Max campaigns furnishes data on auction insights for Search and Shopping ads displayed on the Search Network from November 2021 onward. This report offers segmented auction insights for both Search and Shopping ads, accessible at both the account and campaign levels.
To view a report, you need to click on the desired campaign in your account and select "Auction insights" in the "Insights" section.

The report proves highly valuable for optimizing Performance Max campaigns, aiding in assessing the campaign's learning accuracy and its exposure to the intended audience.
You can't set targeting keywords in Performance Max. The system independently selects for which search queries to show advertising, based on the signals of the audiences and objects that you added when setting up the group. If you notice advertisers among your competitors who are not relevant to your niche, it suggests that your campaign may be optimized using incorrect signals.
What can you do with auction insight data?
With this information, you can assess the performance of your ads, making it a valuable starting point for conducting a PPC audit.
The Auction insights report will show you your competitors and your current position compared to your competitors, and will also help you improve the effectiveness of your own advertising.
The report data will help to understand the strategies of your competitors and improve their own advertising.
You will understand that it is worth raising your bids and increasing your promotional budget if the report is empty because the share of your ad impressions is below 10%. This indicates that your competitors are spending significantly more. Thanks to the report, you will be able to understand how much you need to increase your bids and/or budgets.
The report will help you determine whether the Performance Max campaign has learned correctly and whether your ads are reaching the target audience. It will also indicate whether the target keywords are being utilized in your search campaigns.
Further advice on Google competitor analysis
As I said earlier, that PPC competitor analysis is an ongoing process. Competitors can change their strategies, and the digital landscape is dynamic and there is a lot of information available to you from different sources. At Atomic Leap, we always recommend regular competitive analysis to give you a competitive edge. For help on setting this up, contact our team today.
Liked the article? Don't forget to share it on social networks.