How to collect customer reviews for an online store
Even at the stage of developing an online store, it is important to devise a strategy for promoting it. And in doing this it is wise to consider an important component of marketing: brand reputation. One of the most proactive ways you can manage reputation is through online reviews and testimonials. But how to collect customer reviews?
In this blog post we will tell you how to get real reviews for your online store. In turn, this will help you attract more loyal customers.
Table of Contents:
Main ways to get feedback for eCommerce sites
How do reviews affect your site?
Main ways to get feedback for eCommerce sites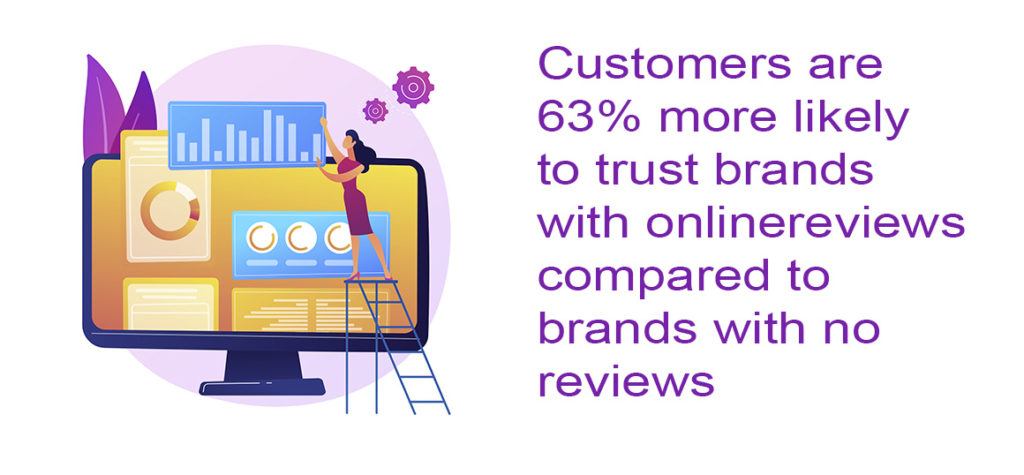 As an SEO digital marketing agency, we have four simple suggestions around reviews, and to strengthen customer loyalty to your brand and online store.
Raise your authority. Buyers are 63% more likely to trust and buy from a company with good reviews. The store should have a feature that allows you to leave a review.
Encourage referrals. 84% of shoppers trust business reviews as much as personal recommendations. Offer bonuses for reviews, but don't be too aggressive. Change your approach to content. Give a huge amount of attention to tweaking the opening email in your mailing list until it is the "right" one? The knock-on effect of engaging people properly at this first stage are significant.
Help customers use the products. High-quality and informative product reviews not only improve the reputation of the brand. They also help future buyers get the most from their prospective purchases, further fostering good will.
How to motivate customers to leave reviews: 6 proven tool
1. QR code on the package
Providing a QR code facilitates a quick way for your customers to leave feedback. It is easy for them to scan with a smartphone and takes up little space on point of sale (POS) materials. Generate a QR code with a direct link to the desired page for collecting reviews, such as your Google My Business page or another landing page with reviews.
Remember to place the QR code where it is convenient to scan it.
2. Email
A trigger email is one of your best email marketing tools. It is sent in response to a targeted customer action, such as after purchasing a product. But what should you include in your messaging so that the customer wants to leave a review. Here are a few ideas:
A motivating subject line
A message from a specific person and a reminder of what the request is for, for instance: "Hi, this is the Super Laptop store team. We want to know if you are satisfied with your recent purchase from us."
Include "amplifiers": These are cues for the client to understand what benefits the survey will bring to them and that it will only take a little time – both important influences.
A link to your page for collecting reviews, a Google form, a page on social networks or a listing on one of the external sites.
Gratitude! It is important to express sincere gratitude for any feedback that will be left.
3. Newsletters via messenger or SMS
SMS is a quick way to get in touch with a client who already knows you and made a purchase/order for a service. A more modern version of SMS is instant messenger apps, in particular, WhatsApp.
Send your customer an SMS or WhatsApp message encouraging them to leave a review on the site the next day after buying from your company.
An important point: before sending messages to customers, you need to get their consent to the mailing list. This can be done through the checkout page on the site or through the newsletter subscription form.
4. Remarketing
A non-standard (but effective) option for generating reviews is remarketing. It is relevant for those companies that see great value in the feedback of their customers and are ready to invest an additional budget in this. The ad should target people who have recently bought something from your online store.
5. Compliment from the company
This method increases the number of reviews rather than technically simplifying their collection. If you have the budget, you offer a souvenir product or, for example, clothing with your logo, in return for leaving a review.
6. Competition
One idea to gently encourage those who want to leave a positive review is to arrange a competition on the theme "the best review of the month". The flow of positive reviews will not take long with this incentive in place.
How do reviews affect your site?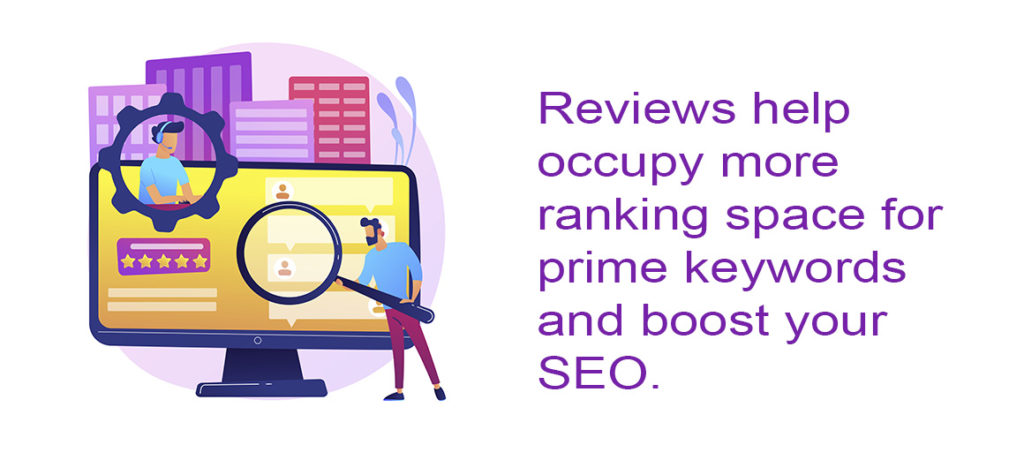 New reviews not only increase the credibility of your online store. They affect other important components of promotion, from search engine optimisation to objection handling and the overall effectiveness of content marketing. Let's take a closer look at the impact of reviews on all marketing metrics.
Higher SEO performance. The Google algorithm ranks consumer review pages higher in the SERPs, and user-contributed content is likely to contain keywords.
Higher click through rate (CTR). You'll get a featured snippet and rank higher on SERPs if you add star-rated microdata to your website.
Personalisation of customer experience. Reviews show different points of view on a product and make it easier to choose.
Reviews supplement information about relevant search queries. Reviews give you insight into the actual keywords your customers are using.
Help improve products. The experience and opinions of your customers will be a valuable source of information for improving products and services. You don't need a lot of reviews to take advantage of these benefits. Products are 250% more likely to sell with just five reviews. This should be balanced, however, by one study which found that shoppers want at least 40 reviews to justify an average star rating.
Life hack! What to do if the feedback is negative?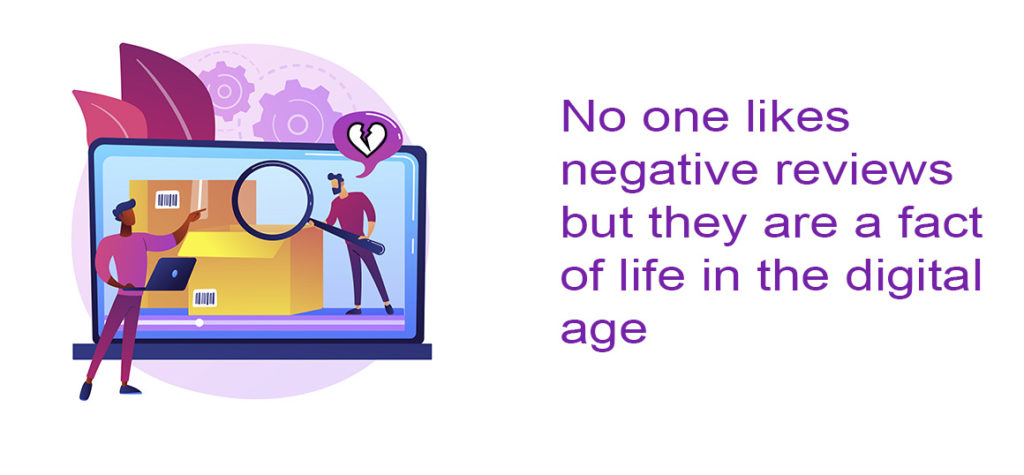 First, it certainly cannot be ignored. In the letter, you can offer to rate the customer experience on a scale from 1 to 10. If the user rates 7 points or lower, redirect them to a form in which they will explain what exactly they did not like and what help they need. You can then respond to this privately.
If the score is between 8 and 10 and the review will therefore be positive, direct the visitor to another form or landing page where they will leave their positive review.
If you receive a negative review on a third-party resource, try to avoid emotions and understand the situation. Criticism shows errors, but it is a tool for correction and improvement. Don't forget to follow the following rules:
Be sure to respond to negative reviews.
Respond quickly. It is better to respond to a negative review quickly so that the author does not write on other sites, and potential customers do not draw the wrong conclusions.
Do not unsubscribe, but solve the problem. If a customer left a negative review, chances are good that other customers will experience the same.
Explain your position. Try to calmly and convincingly justify your opinion
On what platforms to collect reviews?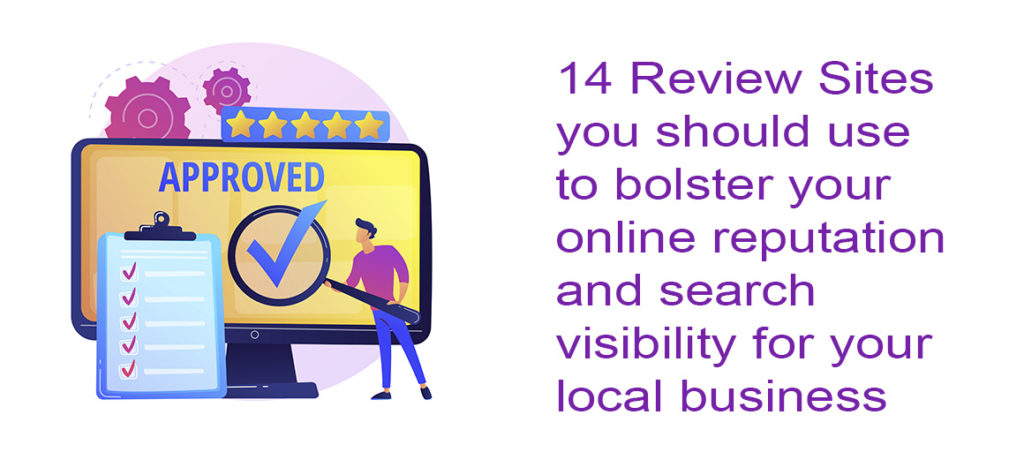 When choosing review platforms, you should prioritise those in the territories where your business operates and those that are affiliated with Google. These are the sites that act as "sources of feedback" for Google in determining reviews and in turn SERP rankings for your business. There are several popular sites where users leave reviews more often than others.
Google My Business
Amazon
Facebook.com
Yelp
BBB (Better Business Bureau)
Yellowpages
bazaarvoice.com/uk/
bizrate.co.uk
feefo.com
reviews.co.uk
reevoo.com/en/
trustedshops.eu
trustpilot.com
verified-reviews.co.uk
Positive reviews are an important factor in the health of your Google My Business profile and search visibility for your local business. And this is, therefore, one of the most important considerations in how online reviews affect business.
Get tailored help
As an experienced online performance marketing agency we know that a systematic approach to marketing increases the efficiency of investments in web design and development of an online store. Effective work with reviews will help increase the credibility of your online store and sell more with a higher average bill.
If you are looking for a digital marketing agency in Bristol to help you develop your own tailored review strategy, book a call with us at Atomic Leap and we will help you take your marketing to the next level.
ABOUT THE AUTHOR
Nataliia Yuzhaninova is SEO manager of marketing agency Atomic Leap.
LinkedIn: Nataliia Yuzhaninova