When conducting an e-commerce SEO audit, it's essential to follow a comprehensive e-commerce SEO audit checklist to ensure that your online store is optimized for search engines. An SEO audit for e-commerce site involves reviewing various aspects of your website, from e-commerce SEO technical audit elements to on-page optimizations. Here's a detailed guide on what to check for during an e-commerce SEO audit:
1. Technical SEO
Website structure and hierarchy.
URL structure and permalinks.
Sitemap and robots.txt file.
HTTPS implementation.
Page load speed and performance.
Mobile-friendliness and responsiveness.
Schema markup for product pages.
2. On-Page SEO
Title tags, meta descriptions, and header tags (H1, H2, etc.).
Keyword optimization in product descriptions.
Image alt tags.
Canonical tags for duplicate content.
Internal linking structure.
3. Content Quality
Product descriptions: Ensure uniqueness and informativeness.
Blog content: Relevance and quality.
User-generated content (reviews and ratings).
4. Product Pages
Unique product descriptions for each item.
High-quality images with descriptive alt tags.
Product reviews and ratings.
Clear pricing and availability information.
5. User Experience (UX)
Site navigation and organization.
Mobile optimization and responsive design.
Checkout process ease and security.
Site search functionality.
6. Site Speed
Page load times across devices.
Image optimization.
Minimization of HTTP requests.
Caching and compression.
7. Technical Issues
Broken links and 404 errors.
Redirects (301 and 302 redirects).
Duplicate content issues.
Use of structured data (schema markup).
8. Local SEO (if applicable)
Google My Business profile optimization.
Local keyword targeting.
9. Backlink Profile
Quality and relevance of backlinks.
Toxic or spammy backlinks.
10. Conversion Rate Optimization (CRO)
Checkout process optimization.
Calls-to-action (CTAs) and buttons.
Product page layout and design.
Abandoned cart recovery strategies.
11. Analytics and Tracking
Google Analytics and Google Search Console setup.
Tracking and analyzing user behavior.
Monitoring key performance metrics.
12. Security
Regular security audits.
HTTPS implementation.
Protection against malware and hacking.
13. International SEO (if applicable)
Hreflang tags for multiple languages and regions.
Currency and pricing adjustments.
14. Social Media Integration
Ensure social sharing and integration options are optimized.
15. Legal Compliance
Privacy policy, terms and conditions, and other legal requirements.
Conducting an e-commerce SEO audit using this e-commerce SEO audit checklist will help you identify areas for improvement, ensure your website's SEO health, and boost its visibility in search engine rankings.
What tools can you use to conduct SEO audits?
You have several options when it comes to SEO audits:
Do It Yourself (DIY): Clients with a good understanding of SEO can perform their own audit using the checklist provided. There are many online resources and tools available to assist in the process. Use a tool like Screaming Frog to highlight any technical errors
Paid Services: Clients can opt for paid SEO audit services provided by various SEO tools and agencies. These services often offer in-depth analysis and recommendations based on the audit results. There are several you can try. Semrush gives you keywords, competitive analysis, article ideas, and a set of other tools. Then there is Ahrefs or Moz.
Experienced SEO Marketing Agency: You can turn to an experienced SEO marketing agency to conduct the audit. Such agencies can not only perform the audit but also develop the right SEO strategy, improve the website's structure, analyze competitors for further promotion, and work on improving the site's position by increasing targeted traffic within a specified timeframe, often within three months.
By choosing the approach that best suits their needs, you can ensure that you e-commerce website is fully optimized for search engines, driving increased organic traffic and improving their online visibility.
ABOUT THE AUTHOR
Nataliia Yuzhaninova is SEO manager of marketing agency Atomic Leap.
LinkedIn: Nataliia Yuzhaninova
Local SEO is a type of search engine optimisation for small and medium businesses that helps to achieve high positions in the search results for geo-specific queries.
Knowing the trends and optimisation principles associated with local search is now becoming a marketing priority for many types of company. That is why we are going to look at some local SEO tips in a moment.
Types of company optimising for local search
Stores and companies with a physical sales office
Cafes, restaurants
Entertainment establishments
Medical and cosmetic clinics and we are seeing local SEO for dentists
Beauty salons
For some projects, why local SEO is important is that it's the only strategy that guarantees the achievement of marketing objectives. This is because of the following:
Search personalisation. The first positions in the search results are occupied by larger companies and stores, as well as catalogues and aggregators. This is a big reason why local SEO is important for small business.
Search service algorithms are adapted to the semantic meaning of the search query, and not to key phrases (keyword).
Search results are adapted to the location of the user who is looking for a particular product or company. This method allows search engines to provide different answers to the same search query sent from different places, which provide results that are closest to the user.
In this blog, as a local SEO expert we will tell you about the advantages of local SEO and what mechanisms work in local SEO as well as how to optimise a site for local search results; in short, we'll tell you how to dominate local SEO.
Benefits of local optimisation
Local optimisation allows you to:
Increase the volume of traffic to the site for local low-frequency queries
Take conversions to the next level
Gain an edge over larger competitors in your business sector
Increase your brand awareness
As you can see, they are all good reasons to prioritise search engine optimisation for local business.
Top ranking factors for local SEO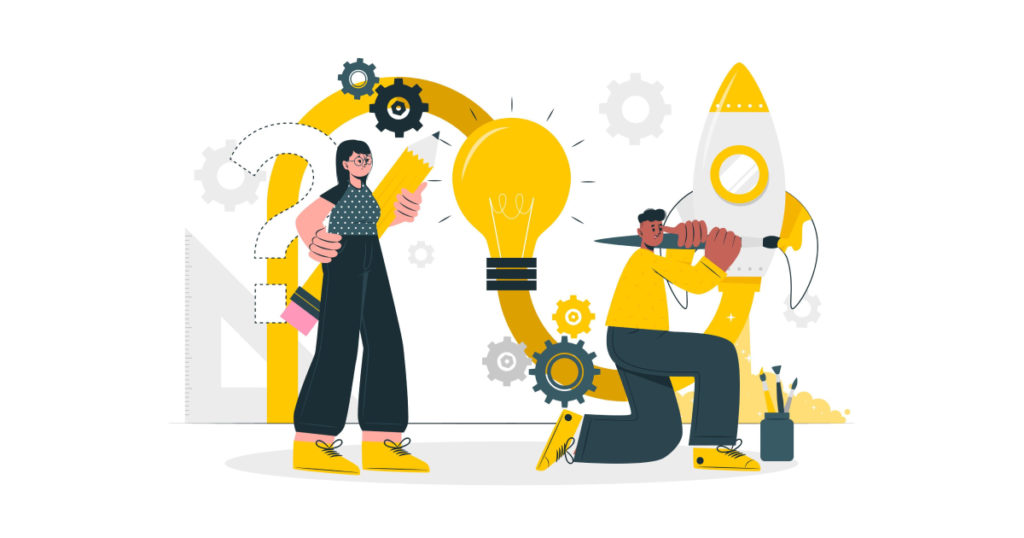 Search results are becoming more and more personalised. One of the factors of personalisation is the location of the user. Google uses maps and quick replies to show information from companies that are geographically closer to the searcher's location. So all of the following local SEO ranking factors are important when considering how to improve local SEO.
The physical address of the company. The closer you are to the user at the time of the search, the higher the probability of getting into their local results.
Availability of your company in Google My Business, Google Maps, Bing Places with the right category and description.
Quality link profile is good for local SEO UK.
Optimised URL, title tags, headers, meta description, and content for geo-requested queries.
Citation of the brand or mention of the company in local media, forums and blogs.
Registration in local directories and services helps for local SEO B2B or B2C.
The same NAP (name, address, phone) for all sites and services where your company is listed.
Reviews about the company in various sources – their quantity, quality and regularity of writing.
Behavioural factors. Clicks on the company card, clicks on phone numbers.
Social signals about the activity of the company in social networks.
Local search result types
There are three types of ranking results for geo-specific queries: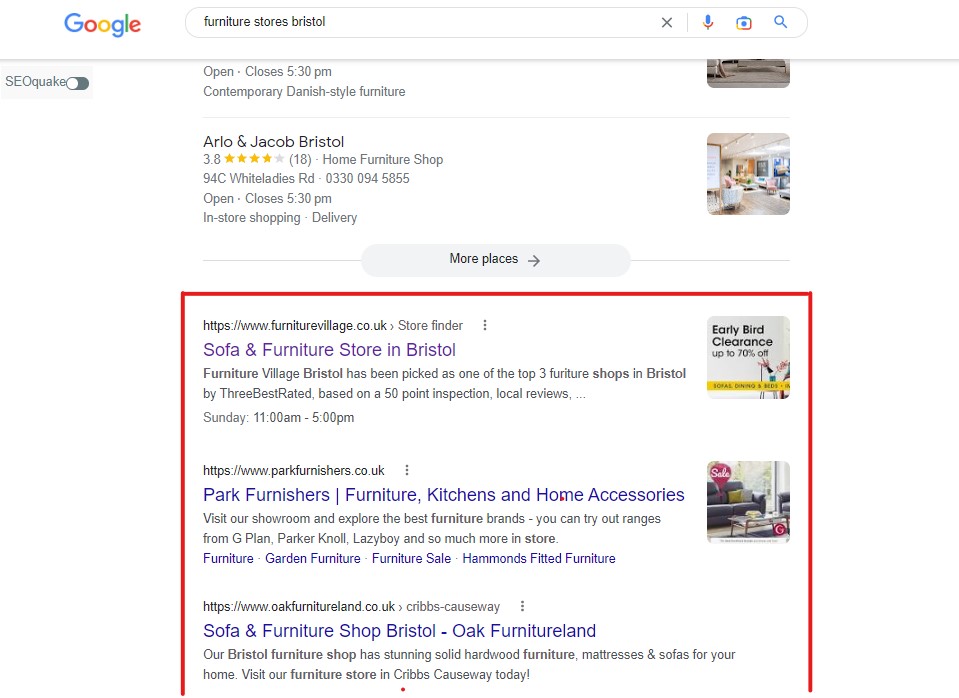 Google Local Map Pack is the top three results from Google Maps.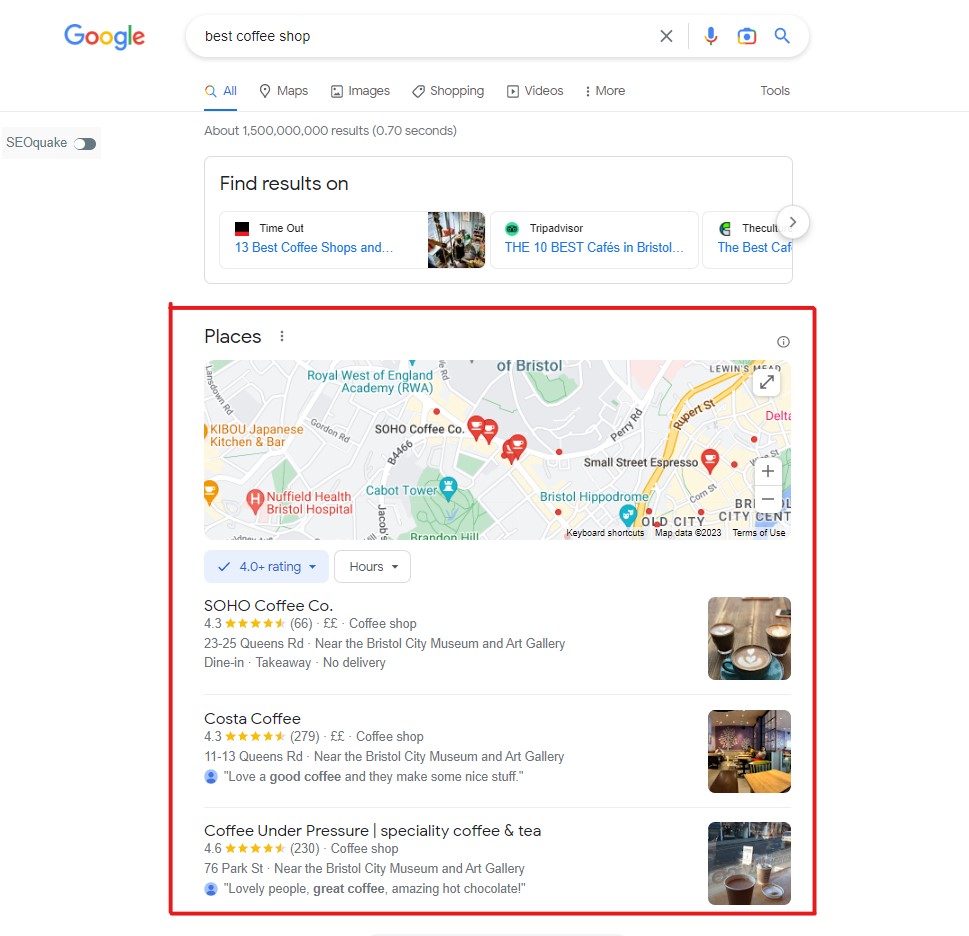 Local Knowledge Graph – usually this is the results for direct queries.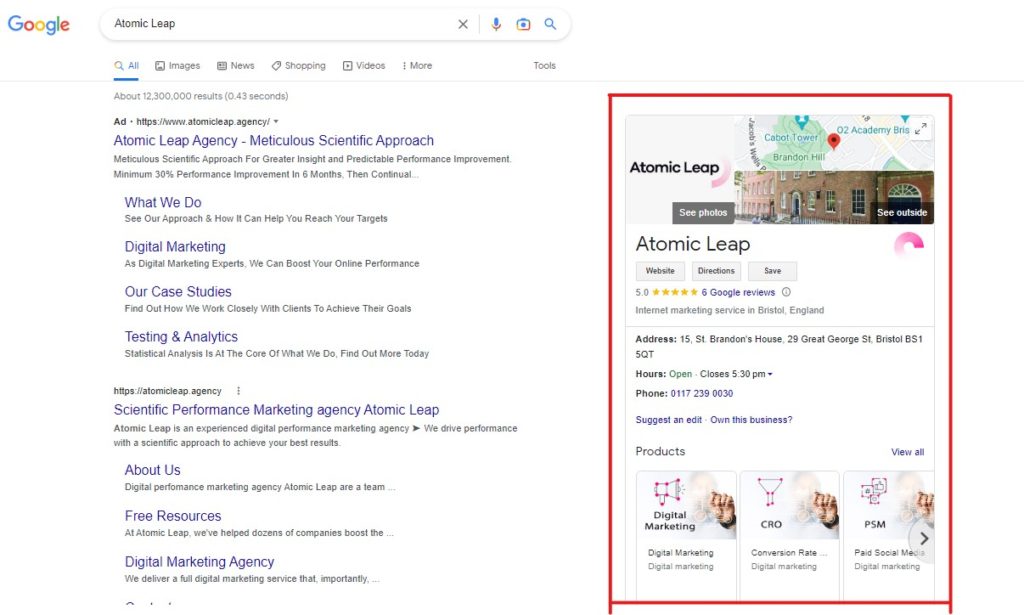 And you can dominate each of these above.
How to improve local SEO and dominate the SERPs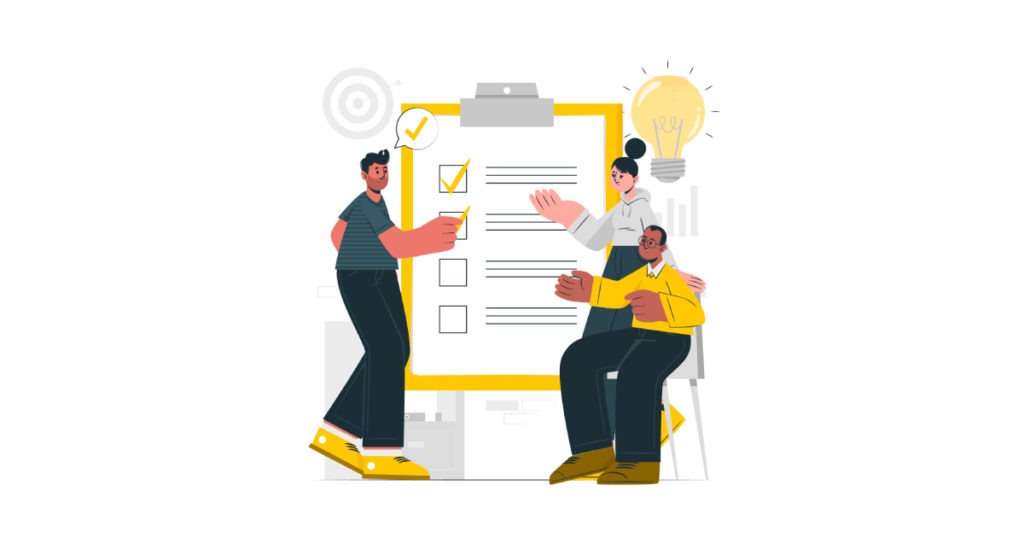 Here are 11 simple but useful tips that we use in our own SEO agency to help you improve your local SEO and make it more relevant to search engines:
When generating search results for a geo-dependent query, search engines take into account NAP (name, address, phone). Consistent contact information on all sites that provide information about the company will allow search bots to accurately identify your brand.
List your business on Google with a free Business Profile (formerly Google My Business) and on Bing Places. In addition to the fact that services allow you to get to top positions in the search results, they themselves can be a great source of traffic.
Work on the contact page on your site and mark it up with semantic tags so that search engines interpret the data correctly. Add microdata LocalBusiness (schema.org) – specify as many properties as possible: from the address and company name to geographic coordinates, opening hours, branches, reviews and links.
Meta tags like title, description, heading tags H1, H2 should contain the name of the city and/or district where your enterprise is located or operates.
Work on site content for local keywords. All local queries should have a pronounced geo-dependence and a clear regional intent. Google doesn't rank websites, it ranks pages. Therefore, you need to create separate landing pages for specific locations, avoiding duplicates of the main content.
Optimise content for voice search using more long-tail keywords.
Image optimisation. It is necessary to prescribe the name of the city, district, street in the Alt attribute, which allows for ranking when searching for a product by image.
Generate as many reviews as possible.
Publish posts and reviews on social networks, they will increase local brand awareness and attract additional traffic to the site.
List your business on local business directories such as Yelp, Foursquare, MapQuest, and Yellow Pages. You need to choose the most suitable sites, log in, add information about your business and a link to your website.
Get high-quality backlinks from regional sites.
Help with local SEO optimisation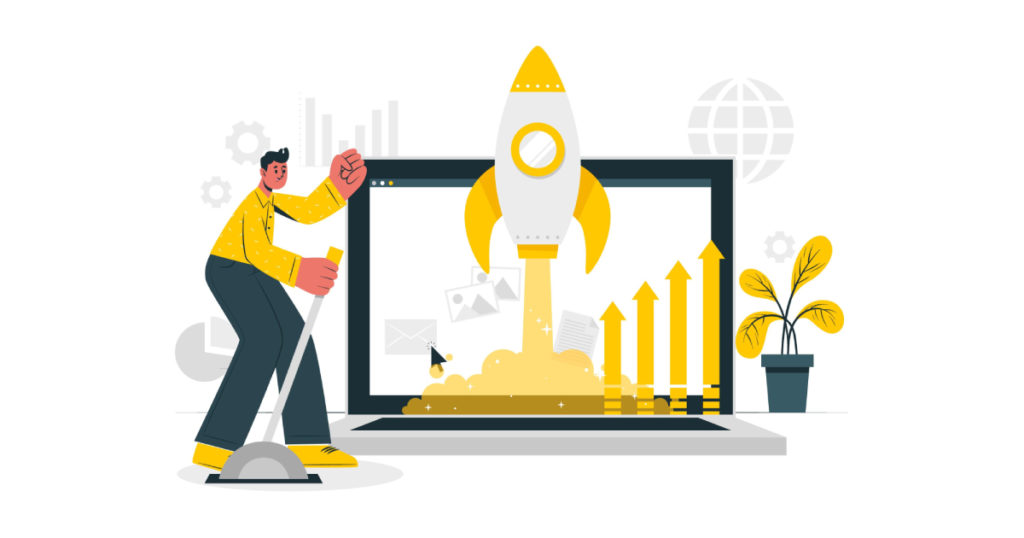 We hope you found that local SEO checklist useful. By following these tips, you will make your website and local business more visible to search engines. If you would like us to manage it all for you though, please do not hesitate to contact our local SEO solutions team and we can tell you more. Or get in touch even if you just have a further question around how to optimise your website for local search. We would love to share our experience in local SEO strategy with you.
If you found this article helpful, share the link with people you know. They might also benefit from knowing about local SEO.
ABOUT THE AUTHOR
Nataliia Yuzhaninova is SEO manager of marketing agency Atomic Leap.
LinkedIn: Nataliia Yuzhaninova